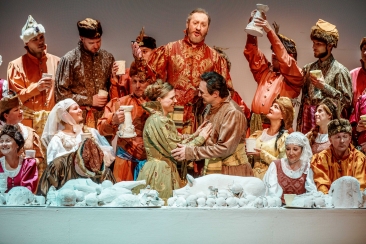 première on the occasion of the 60th anniversary of the Silesian Opera: 18th of june 2005
musical supervision: Tadeusz Serafin
staging and direction: Marek Weiss-Grzesiński
sets: Boris. F. Kudlicka, Marceli Sławiński
choreography: Izadora Weiss
chorus master: Anna Tarnowska
music cooperation: Antoni Duda, Piotr Warzecha
stage preparation: Jarosław Świtała, Marek Ziemniewicz
costumes: Maria Balcerek

New production on the occasion of the 70th anniversary of the Silesian Opera: 14th of june 2015
musical supervision: Tadeusz Serafin
stage preparation: Bernadeta Maćkowiak i Tadeusz Piszek
music cooperation: Krzysztof Dziewięcki
conductor's assistants: Mieczysław Unger
chours preparation: Krystyna Krzyżanowska-Łoboda
ballet manager: Olga Kozimala-Kliś
Solisters' tutors: Larysa Czaban, Halina Mansarlińska
Opera w 4 aktach
Duration:
2 godz. 10 min. – 1 przerwa
Libretto: Włodzimierz Wolski
Act 1
Guests at an engagement party are happy to note that the wedding of Janusz, a wealthy young landowner, to Zofia, the daughter of an even wealthier landowner named Stolnik, will unite two huge estates. Zofia and Janusz celebrate a toast with Stolnik, and Stolnik calls Janusz the son he has always wanted. The party is disturbed by a plaintive wailing from outside. It seems to be a troubled young girl, crying for her lost love. The kind-hearted Zofia asks Janusz to talk to the girl, hoping he will comfort her; he reluctantly agrees.
Dziemba, the steward of Stolnik's estate, ushers in the woebegone creature. This is Halka. To the audience's surprise, she appears to know Janusz. It turns out that he himself is her lost love; he promised her marriage while in her village in the mountains but then disappeared. As soon as Halka looks into Janusz's eyes, she is convinced that his feelings for her haven't changed, despite the disquieting rumours she had heard to the contrary. Halka throws her arms around Janusz and he says that he still loves her as he did before. He tells Halka to meet him after dark at the statue of the Virgin Mary by the river; they will escape together to start a new life somewhere else. Once Halka goes out, Janusz returns to the party.
Act 2
Halka is waiting for Janusz by the river. She is disturbed by the appearance of not Janusz, but Jontek, a friend from her mountain village. Jontek has been in (unrequited) love with Halka for many years. Halka tells him happily that Janusz still loves her, but Jontek insists that she has been betrayed. Jontek can't convince Halka until he drags her to the scene of the party, where she sees that Janusz has become engaged to Zofia. Halka is devastated and compares herself to a dove who has been ripped to pieces by a falcon.
Act 3
Act 3 opens with happy scenes of normal life back in Halka's mountain village. The villagers are dismayed by the arrival of Jontek and an unrecognisable woman, who turns out to be the saddened Halka. They are angry when they hear about Janusz's engagement and even angrier when they realise that Halka is pregnant. Halka is in a world of her own, crushed by grief and fixated on the images of the dove being broken by the falcon. A black raven passes overhead, boding ill for everyone.
Act 4
Jontek is very sad about Halka. When a piper, in the village to play at the wedding of Janusz and Zofia, appears playing a happy tune, Jontek asks him what there is to be so happy about. The piper mollifies him by playing a haunting mountain song. Jontek describes his love for Halka and the many wonders of nature she reminds him of.
When Janusz and Zofia arrive in the village to celebrate their wedding, the angry villagers have to be convinced to act festive by Dziemba, the steward, who persuades them to do so out of respect for the bride. Zofia notices that Halka is terribly upset. She thinks she has seen Halka somewhere before, and even asks her what's wrong. Janusz admits that Halka is the girl who interrupted their engagement party but whisks Zofia into the church before she can ask any more questions. Halka is heartbroken to see that Janusz is going through with the marriage. She has lost her baby and feels completely alone. In a fit of rage, she decides to burn down the church. However, she decides to let Janusz live and throws herself into the river instead.