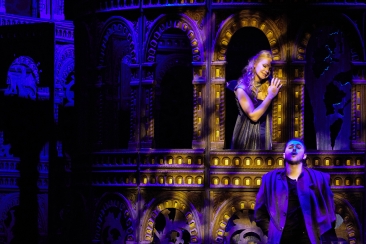 musical supervision: Bassem Akiki
directions and costumes: Michał Znaniecki
dekorations: Luigi Scoglio
choreography: Elżbieta Pańtak, Grzegorz Pańtak
lights: Bogumił Palewicz
chorus master: Krystyna Krzyżanowska-Łoboda
ballet manager: Grzegorz Pajdzik
Opera w 5 aktach
Duration:
3 godz. 10 min. - 2 przerwy
The libretto follows the story of Shakespeare's play.
Act 1
Overture prologue:
A short chorus sets the scene of the rival families in Verona.
A masked ball in the Capulets' palace
Tybalt talks to Pâris about Juliette, who appears with her father. Roméo, Mercutio, Benvolio and their friends enter, disguised, and Mercutio sings a ballad about Queen Mab, after which Juliette sings a joyful waltz song. The first meeting between Roméo and Juliette takes place, and they fall in love. But Tybalt re-appears and suspects that the hastily re-masked Roméo is his rival. While Tybalt wants immediate revenge, Capulet orders that the ball continue.
Act 2
The Capulets' garden
After Roméo's page Stephano has helped his master gain access, he reveals the two young lovers exchanging their vows of love.
Act 3
Scene 1: Laurent's cell
Roméo and Juliette, accompanied by Gertrude, go to the cell, and the wedding takes place. Laurent hopes that reconciliation between the houses of the Montagus and the Capulets may thus take place.
Scene 2: a street near Capulet's palace
Stephano sings to attract the occupants into the street. Gregoire and Stephano skirmish as men from each family appear. The duel is first between Tybalt and Mercutio, who falls dead, and then between Roméo, determined to avenge his comrade, and Tybalt. Tybalt is killed by Roméo, who is banished by the Duke.
Act 4
Juliet's room at dawn
Roméo and Juliette are together and, after a long duet, Roméo departs for exile. Juliette's father comes to remind her of Tybalt's dying wish for Juliette to marry Count Pâris. The friar gives Juliette a draught which will cause her to sleep, so as to appear as if dead and, after being laid in the family tomb, it is planned that Roméo will awaken her and take her away. [A ballet scene in the grand hall of the palace was inserted at this point.]
Act 5
Juliet's tomb
Roméo breaks into the tomb after having taken poison because he believes that Juliette is dead. When she awakes from the friar's potion, the lovers' last duet is heard before the poison takes effect on Roméo. As her bridegroom weakens Juliette stabs herself, to be united with her lover in death.